Work with government and advocate for policy change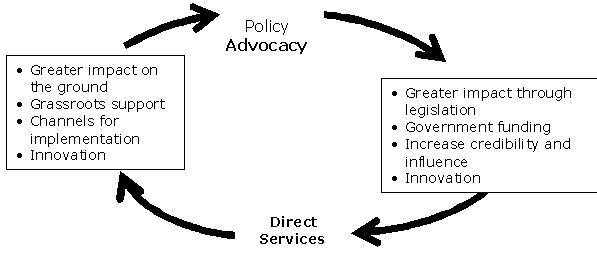 High-impact organizations don't just focus on doing one thing well. They may start out providing great programs, but eventually, they realize that they cannot achieve systemic change through service delivery alone. So they add policy advocacy to access government resources or to change legislation, thus expanding their impact.
Other nonprofits start out doing advocacy and later add grassroots programs to supercharge their strategy. Ultimately, all of them bridge the divide between service and advocacy, and become good at doing both. And the more they advocate and serve, the greater the impact they achieve.
We serve directly by helping
– individuals collect data and discover hidden factors increasing their risk or severity of dementia or mental illness.
– companies, organizations, and researchers share anonymous data
We advocate by working with the government to
– provide resources to researchers as well as
– reducing regulations that impede data sharing, experimentation, and scientific progress.